Dear Picniquetters,  I interrupt my silence this month just because my holidays have finally arrived and as I already told you I will fly with my favorite partner in crime, to the wonderful turkish land, spending a week in Istanbul and touring along the Agean coast. My main intent is to stay as long as I can totally offline from work, nets..(in fact I won't even bring my gooood camera,  I will just take the the analog one and my phone;)  but I promise to keep me sending virtual postcards through my  Instagram and when I will be back, to share here everything  I learned about the rich cuisine that this land promises (as I did for Paris, remember?). And if you ever plan to travel to Istanbul, yoll find useful this first recap, mini to-do-list , to start connecting with turkish cuisine and street -food. 
Start the day with a turkish breakfast
This was actually my first discovery about turkish cuisine and I literally dreaming of since days: this pantagruelian breakfast  is a mediterranean brunch: yoghurt, fresh cheese,( normal option the Beyaz peynir, the turkish feta), tomatoes and cucumber salad (a must) with olives and an infinite selection of breads, pastries, buns and handmade jams and honey. Sometimes the topping is a dish of pochés eggs, Cilbir.
1. What is expeting me!! Just an idea via Asli Sahin Ozacar 2. This will be easy to repeat at home,  çilbir eggs, ancient otoman recipe:melted butter over some poached eggs with plenty of pepper, possibly Aleppo ( future souvenir of the trip) but alternatively it paprika, yoghurt accompanied by ( I fear ) a tad of garlic. I dig the fusion version of Lady&Pups  with.. chimichurri.   3. I'm intrigued by the açma:  a rose-shaped buns with sesame Pic: Eva Toneva  4 y 5 I will start exploring this list, edited by Time Out Instambul, of the best Istanbul bars for breakfast but I am sure I will start with this little gem: Kahve 6, I do believe in its tiny garden we will discover the secret of happiness. A sunday morning. Pic: Isabel Romano 6 y 7. And speaking of breakfasts.. I just felt in love with the entire collections of Mosantimetre, young turkish pottery: I wouldn't mind to take home one of their interpretations of the traditional coffee pot, the cezve, with a real wood branch inserted..even if we already know what turkish people prefer to drink in the morning is..tea! 
A walk through the Feriköy Markets
In addition to the obvious first tours to the more central markets like the Fish Bazar or the Kadiköy market, in the anatolian side, in the Feriköy neighborhood, in the european side,  away from the chaos of the tourist areas, every Saturday and Sunday two markets are happening in the same place, (a quite hidden old parking surrounded by gotham-city buildings). The area is an interesting historical mixture between past migrations of Armenian and Kurdish people and young students, attracted to the cheaper rent. Saturday market is for organic products from local cultivations ( I am so happy to discover that Turkey is updating&tuning to bio&eco so quickly) and Sunday is for vintage bazaar. And if you get hungry there are a few street food stalls: a group of women are constantly preparing in front of you the traditional gozleme, puff pastry filled with many types of cheese, spinach or meat and you can fin ​​express-made juices or a cup of tea to take some rest.  
El video Buğday Organic Market in Feriköy, Şişli, Istanbul Turkey from Sarah K Khan
Picnic by the Bosphorus seaside
I still have to decide which park or area I will choose to have my picnic, waiting to stay there and more aware of the distances but what I already know by now is what will fill my basket! I suppose it won't be hard to catch a few slices of a good pastirma, some rounded simit, the famous rounded turkish bagel (can be literally found everywhere in the street) and a good quality selected cheese like Kasseri, made by unpasteurized sheep milk or Tülüm, by goat's milk.
Pics via The Instambul Guide
A few more street food sins to fill the basket with: olives stuffed with almonds and orange zests and (really I promise to myself by now) just one or two mücver, kind of a courgette fritters that look like..delicious. I will give a try also to the famous stuffed grape leaves with rice and veggies, sarma, a big classic of mid-eastern cuisine that I usually don't like that much, since my very first turkish adventures in Berlin but..who knows, maybe the chance to try them in their home country will make the trick:)
Sweet treat: the halva (the magic of tahine and honey together..combined with all sorts of nuts, fruits and spices) and to drink ayran ( just yoghurt, water and salt make the best drink to side spicy dishes, be aware!)  or the extremely popular pomegranate fresh juice, nar suyu.
I think ANTRE, a small gourmet-shop in Cihangir,is a great spot to fill the basket near the Bosphorus, where I think I will spend a lot of time, because we rent a flat there! 
Visitar el Museo de la Inocencia
This is if –I -visit-another-market -I -will- implode – alternative plan. For that day I have planned to  finally visit the inspiring Museum of Innocence, inspired by Pamuk's book of the same name, in the Çukurcuma neighborhood. Thanks to this book I had a first emotional contact with the city so I am really curious to see this huge collection of vintage treasure.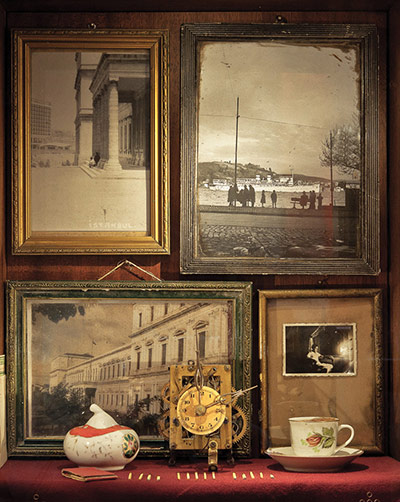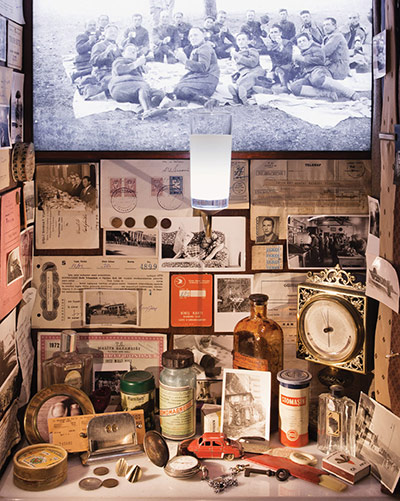 Pics via The Guardian y Kucukbirkahvemolasi.com
I have been reading this book since a while and I'll probably finish it during my trip.  The Nobel price Pamuk renovated an ancient building and literally invented this museum in every detail guiding the visitors through the chapters of his novel, that takes place in a overwhelming Istanbul.  A book museum, a museum book, in fact a collection of real vintage everyday objects, fictitiously connected with the romance inside the novel, but truly indeed revealing the story of Istanbul across the last 50 years. Ambitious project, we'll see…
Walking through the rooftops and terraces of Beyoğlu 
We didn't have any doubt about where to look for an accomodation in the city:  Cihanğir, one of the areas of the famous Beyoğlu district, full of live, bars & tourists (I suppose!). It seems that Istanbul is a two level city: the city in the ground, and another one up in the sky. Plenty of bars and restaurants have an access from the streets that goes directly to a lift. We will have to walk faced up to discover some hidden treasures! 
1 y 2. Night life, hip bars and terraces facing the asian side, I really can't wait! via Travelettes.net.  3. One rooftop restaurant: Tavaranasi, cheap, decadent and always full to taste some meze, soups and salads. 4 y 5. This fancy retro spot offers a simple fresh & organic market menu every day from morning to dinner: Journey.
---
And soooo what? Have you ever visited Istanbul?
I would really listen to any tip: restaurants, bars, markets..Feel free to write your comment!